I had a wonderful week end. J and I went to visit my mom and step dad. We gave mt mom her mother's day gift (three mint plants, one spearmint, one Grapefruit mint and one chocolate mint) If you have never smelt a mint plant I say go out and buy one. They smell amazing.
I'm going to participate in Sunday
Social today!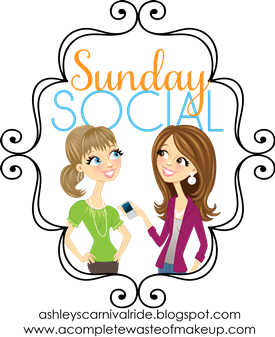 1. What is your favorite kind of Surprise?
I would say the kind that come from the heart. For Valentines day I had to work and my husband finished cleaning and made me dinner. I didn't even think we were going to be able to celebrate it. It's little thing like that, that makes me happy.
2. Flowers or Chocolate
Anyone who knows me would say Chocolate. I love Chocolate. It's so yummy, but I also love flowers, and I love having fresh flowers in my living room.
3. Favorite Summer time activity
I love to read. I love to read under trees, laying on a towel in front of a body of water, or just soaking up the sun reading. It's one thing that I love to do.
4. Do you have any summer vacations planned?
No, nope, sadly nada :(
5. Favorite Summer holiday?
I would say the 4th of July because that is when my H and I officially became boyfriend girl friend, but them my grandma died on that day, so I really don't know
6. Dream vacation!
Italy and Ireland!
And on to one more day in the blog everyday challenge
Day 19, Sunday:
Five of your favorite blogs and what you love about them
We meet while planning our weddings and are at some very similar times in our lives. Plus, she is an awesome blogger! I know she did a guest post for me and I loved it. So, please, please go check her out!
Heather is a fellow teacher and she is even lucky than me. She had her own classroom a dream that I have been having for such a long time and can't wait to get. You need to get to her blog stat because it's a blast to read.
Jasmine is from Wisco just like me, but she too is originally from New York (again just like me) So what's not to love? Her blog reaches the name of being Sassy. I love reading her blog. She is super fun so go and get a little sass added to your day.
I love reading Jamie's blog. It's such a great and professional blog. She just recently got engage which is wonderful. I love the fashion that Jamie talks about, and she has a ton of give a ways In fact she is who I won my give away from. So head on over to her blog.
Lidnsey is one just like Jamie- the writer of a great blog with a great following. I hope to achieve what they have one day. I love reading Lindsey's blog. She had great fashion sense so please, please go check her out.